NOSA General Meeting Reminder
NOSA General Meeting Tomorrow in the RCMP Barn Kitchen at the fairgrounds. Please use Gate 6 (closest to the gas station). 6:30 pm to socialize, meeting starts at 7:00 pm. Bring appetizers or desserts to share.
SDDA Trial – July 9, 2022
Online entry for RPs opens Monday, June 13 at 7 p.m. PDT for Victoria SDDA trial at St. Margaret's School. BEFORE you enter, know your and your dog's registration numbers; competition stream Amateur or Working; your dog's two alerts for Advanced and Excellent only; and if your dog will be eligible for a championship. The premium list can be found on the SDDA website.
NOSA General Meeting – June 2022
Wednesday, June 22, 2022
6:30pm to socialize, meeting starts at 7:00pm
All members are invited to attend NOSA's second general meeting of 2022
Location:
Details:
Room TBA (when the agenda is sent)
Saanich Fairgrounds1528 Stelly's Cross Road, Saanichton
Bring appetizers or desserts to share
Coffee, tea and water will be provided
Email president@nosa.ca if you have questions.
All public health protocols will be adhered to. Please do not attend if you are unwell.
Fall Session 2022
NOSA's fall session begins September 14 and registration is now open. Please visit our Classes page for more detailed information and registration forms.
Our New Website Is Live!!!
We are pleased to announce that our new and much improved website is now live at nosa.ca. On it you will find all the details about the club and our training classes, as well as online forms for class and membership registration. Please have a look and let us know if you have any questions (or suggestions).
CKC Obedience and Rally Trials on April 16 & 17, 2022
NOSA is excited to announce our upcoming CKC Obedience and Rally Trials on April 16 & 17, 2022 at the Saanich Fairgrounds. Entries close on April 6, 2022, at 9:00 PM or when the limit of judging for each day is reached, whichever occurs first. Premium List and entries are available at DogShow.ca.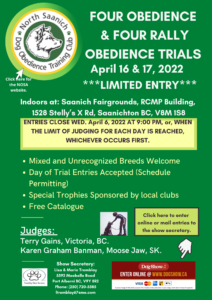 Winter Session – Cancellation
Due to the current numbers of COVID-19 and facility availability, NOSA regretfully is canceling its Winter Session. Registrations will be carried over to the Spring Session commencing March 9, 2022 (barring any further COVID related delays outside of NOSA's control).
Winter Session – Postponement
NOSA is postponing the commencement of its winter classes scheduled for January 5, 2022, until February 2, 2022, barring any further Public Health Order(s) restrictions.